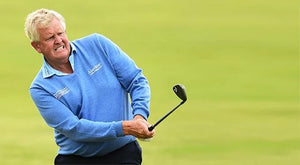 Colin MONTGOMERIE
Multiple Tour Wins and 3 Time Champions Tour Major Winner
TAKEAWAY
The WedgeTrainer promotes a smooth takeaway and helps to keep the club outside the hands.
IMPACT
Maintaining connection with the bar on the lead arm during the downswing will help deliver a tour level impact position and more consistent contact on
the ball, resulting in a lower launch, more spin and better control of distances.
ROTATION
The WedgeTrainer promotes better rotation of the torso to achieve a more consistent short game & lower scores.
GAME CHANGER
The WedgeTrainer is a fabulous training aid. It really gets you turning through the ball and keeps loft on the face. The technique it promotes is just like that used by Steve Stricker & Jason Day.
Colin Montgomerie
About us
Kevin Redfern is the developer of the WedgeTrainer and has worked with Tour Professionals for over 30 years. Kevin is also the founder and CEO of CustomGolfStix, a multiple award winning club maker, European club maker of the year and the official support vehicle for the European Senior Tour.
THANK YOU FOR YOUR SUPPORT