pitch it better with less wrist action
"On pitch shots the No.1 skill is controlling distance".
"If you work that back, the key to distance control is making predictable contact with the ball. A common reason for poor contact in pitching is too much wrist hinge during the backswing".
"Steve Stricker is the best practitioner of this style. He keeps his wrists firm going back and turns his body in sync with his arms. Then, coming through, everything turns together again. It's very solid, very repeatable".
Butch Harmon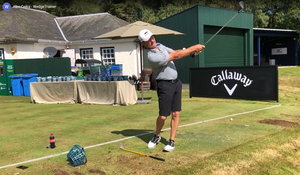 TOUR INPUT
Prior to production, the WedgeTrainer was rigorously tested by Tour Professionals.
The feedback was critical and has enabled us to deliver a quality product, suitable for golfers of all abilities that guaranteed to help them to achieve more consistency with one of the key areas of the game.
Since being released, a number of tour pros are now using the WedgeTrainer to help get their short game dialed in before tournament play.
Kevin Redfern - CustomGolfStix